Be apart of keeping Dayton African American Cultural Festival Alive.

DAACF 2018 EVENTS
Click on Google Calendar to save event


Elders Council presents: WAKANDA Celebration - Thurs, August 16 - Add to your event calendar

Ride Against Poverty: Family Edition - Sat. August 18 - Add to your event calendar

Michael Wright Stage: The Living Legend Lenny Williams - "Cause I Love You" Sat. Aug.18th - Add to your event calendar

10TH Annual Dayton African American Cultural Festival. Sat. Aug.18th - Add to your event calendar

Straight Talk About Health & Health Screenings - Sat. Aug.18th - Add to your event calendar

Dayton African American Cultural Festival Lecture Series. Sat. Aug.18th - Add to your event calendar

Dayton African American Cultural Festival Lecture Series - Sun, Aug 19 - Add to your event calendar

GOSPEL EXPLOSION - Sun, Aug 19 - Add to your event calendar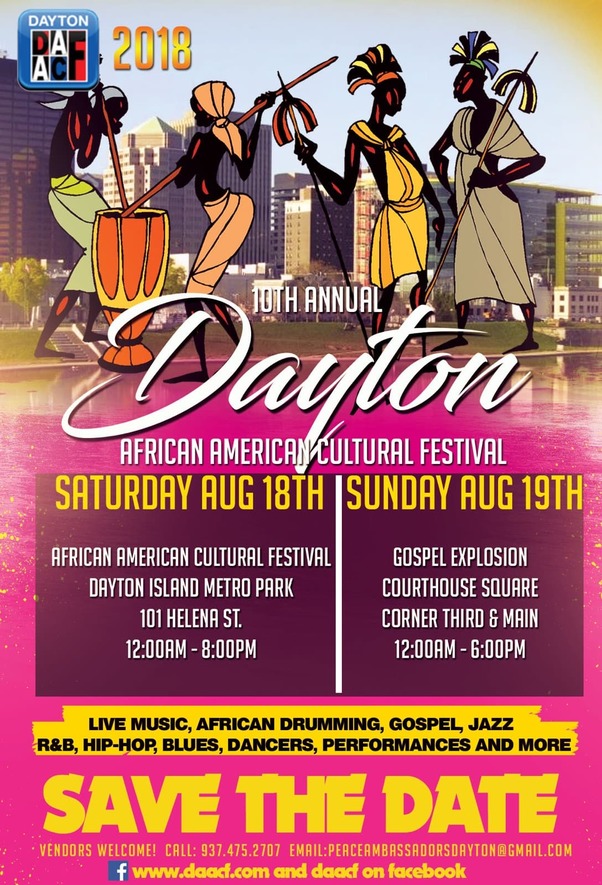 ​
​10TH Annual Dayton African American Cultural Festival
Live music, African drumming,
Gospel, Jazz, R&B, Blues, Hip Hop, Dancers, Live Performances & more!
Saturday, August 18, 2018
12:00 pm - 8:00 pm
DAYTON ISLAND METRO PARK(101 E. HELENA STREET
)
---
---
It's All About YOU!
Dayton African American Cultural Festival
Saturday, August 18, 2018
Island Park - 101 Helena St.

"Straight Talk About Health" Main Stage
12:30pm - 2:30pm

Health Screenings & Booths
Noon - 4:00pm
---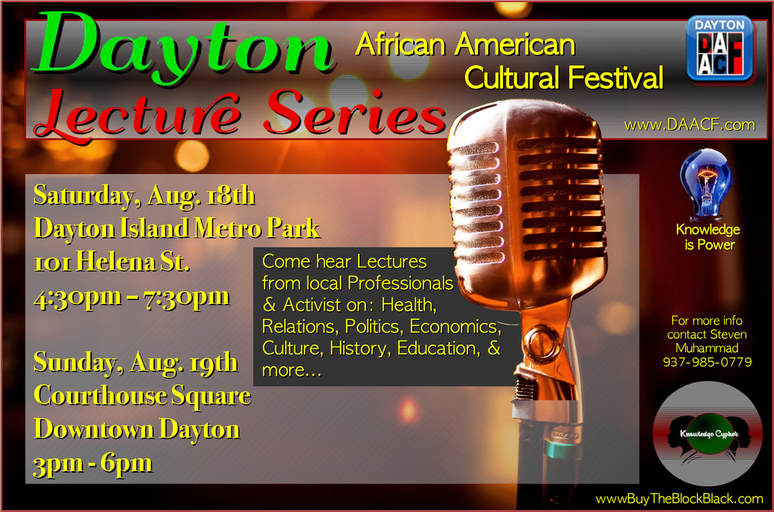 DAACF LECTURE SERIES

Saturday, Aug. 18th Dayton Island Metro Park (101 Helena St.) 4:30pm – 7:30pm

Sunday, Aug. 19th Courthouse Square Downtown Dayton 3pm - 6pm

Come hear Lectures from local Professionals & Activist on: Health, Relations, Politics, Economics, Culture, History, Education, & more...

​Will be the official launch of Knowledge Cypher Lecture Series


For more information call 937-985-0779
---
---
Kid's Korner

Saturday, August 18, 2018
12pm - 5pm

Island Park

Youth Stage starts at 1pm

Feat. Under Age Gentlemen, 585 Nation and other local talent

Games, Prizes, Give Aways including School Supplies

DJ Four Seasons on the 1's & 2's

For more info. contact Ashley
937-715-5121
DAACF937@gmail.com
---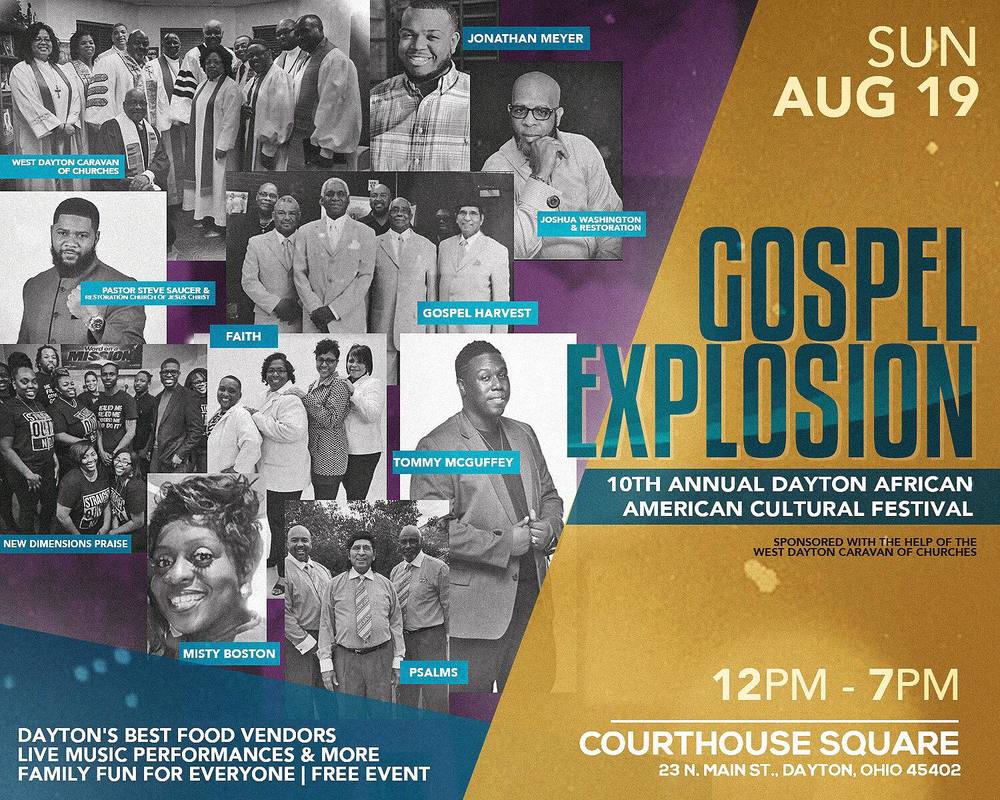 ​GOSPEL EXPLOSION
Sunday, August 19, 2018
12:00 pm - 6:00 pm
COURTHOUSE SQUARE
CORNER THIRD & MAIN
---
The Annual Dayton African American Cultural Festival is a two-day, city-wide family event to bring the richness of the African American experience in the Dayton and surrounding communities.

The Dayton African American Cultural Festival host many different cultural experiences;
* African Village, Drumming, Story Telling;
* Arts Pavilion of paintings, visual displays, authors, and literature;
* Education (Job Center, Dayton High School Alumni Directories);
* Music (Live R&B, Gospel, Hip Hop, Jazz, Blues performances).

There will be health care (screenings), merchandise and food vendors. Diverse people will be brought together in celebration.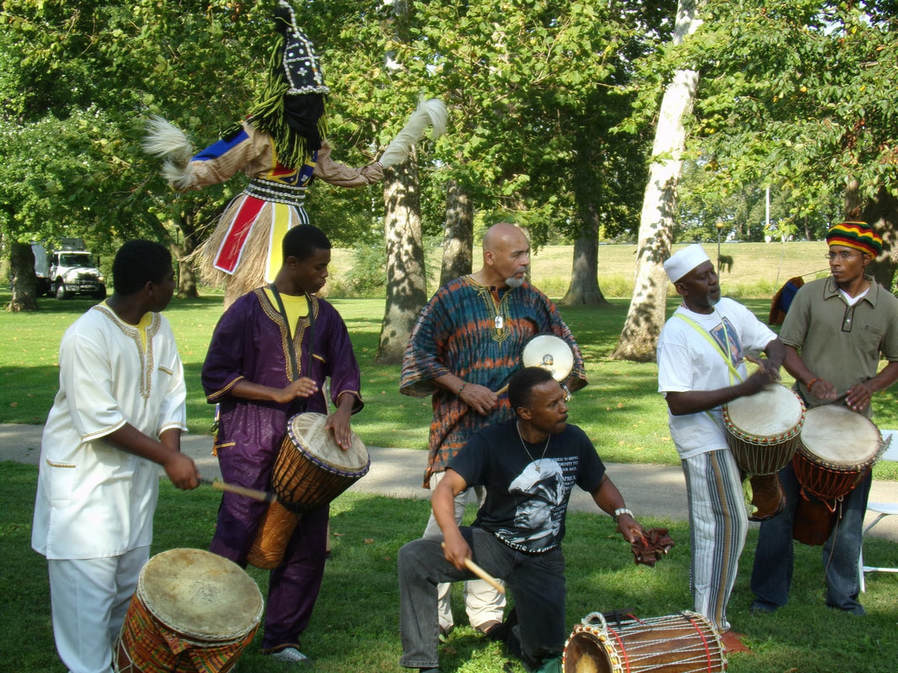 Visit the authentic African Village -
Vendors Welcome!
Call 937-475-2707or email:
p
eaceambassadorsdayton@gmail.com
For a vendor application for this years Festival
---
The Dayton African American Cultural Festival needs your financial support:

We're asking everyone to DONATE $5.00 or more today! click on the Donate Button below!
DAACF
PO BOX 1002
Dayton, OH 45401-1002

Photos Courtesy of Terry Flucas Dayton & Steven Muhammad